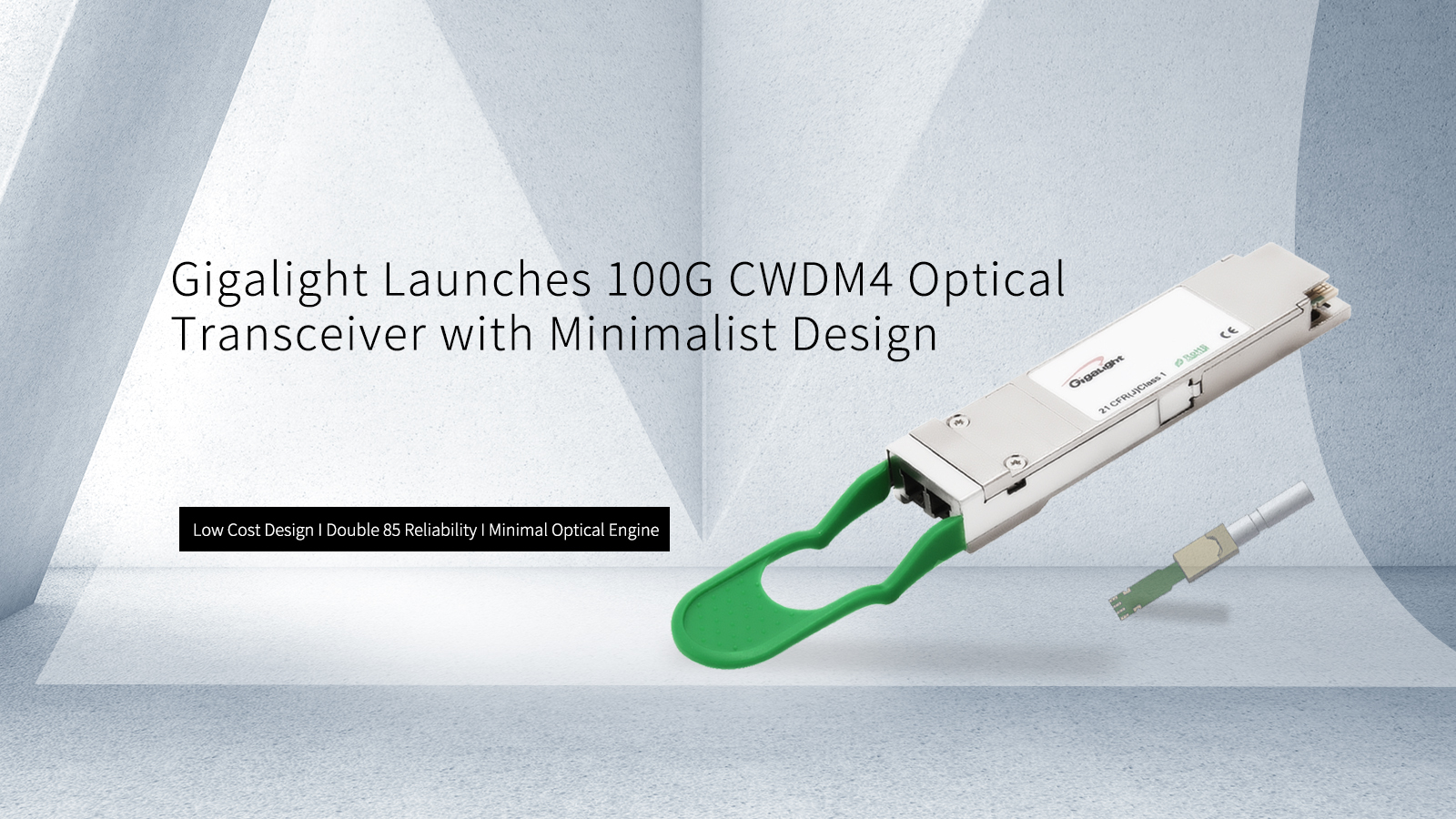 Shenzhen, China, October 10, 2018 − Gigalight has launched a leading R&D achievement to make the 100G QSFP28 CWDM4 optical transceiver synchronously realize two big indexes of low cost and double 85 reliability by minimal and innovative design improvement for MINI TOSA.
Low Cost
The new version with minimal optical engine is beyond the traditional design structure and greatly reduces the overall cost by adopting several innovations such as new materials and design. Because optical engine is the main cost source of the 100G CWDM4 optical transceiver module, so low cost, high reliability and mass production are the key to the success. Gigalight's minimal optical engine adopts new optical design, alternative silicon materials and other lost cost methods, to make the cost (except the CWDM DML chip) achieve only 1/3 of that with traditional design. The new optical engine will be much more cost-effective in mass requirements. With one hundred thousands of requirements, the cost of new 100G QSFP28 CWDM4 transceiver can be less than 150 dollars.
High Reliability
The reliability of the semi-hermetic optical engine must be guaranteed when using the minimal optical design. Facts and data have proved that simple and excellent design can make performance and reliability more controllable. At least, Gigalight has achieved industry-leading achievements in the packaging technology of semi-hermetic optical engine.
Under double 85 test environment and after 336 hours test, the test data of the Gigalight's low cost optical engine is as follows:
Test of P4/C4 MINI TOSA (Costdown Version) Under High Temperature and High Humidity Environment
Batch
SN
Before
After 336H
Change
Optical Power (UW)
Optical Power (UW)
|ΔPo| > 1.5 dB
Records
P1
897
991
0.43
P2
1086
1199
0.43
P3
766
850
0.45
P4
831
890
0.30
P5
717
866
0.82
P6
822
1011
0.90
P7
924
935
0.05
P8
959
1099
0.59
P9
839
884
0.23
P10
1156
1183
0.10
P11
1118
1120
0.01
Production
In addition to the two major goals of low cost and high reliability, Gigalight is also developing minimal production mode of lower cost 100G optical transceivers. At present, the traditional production mode in the industry relies on complicated and expensive equipment, while the minimal production unit that Gigalight is developing will completely break through the traditional technology platform of high-speed COB production and make the investment of expensive equipment invisible by adopting a new technological perspective. Gigalight will launch this new self-research autonomous production platform in the first quarter of 2019. The new platform will simplify many key production processes and improve long-term production efficiency. The new platform is likely to create what couldn't hear of the manufacturing process of optics and transceivers.
Since the beginning of 2018, Gigalight has been positioned as a global optical interconnection design innovator. In order to realize the goal and value of design innovation, Gigalight has to make key innovations in optical design, industrial design, reliability design and production design.