Shenzhen, China, March 13, 2020---Gigalight's WDM Active and Passive Solution Products successfully passed certification tests and obtained the Ministry of Industry and Information Technology's Network Access license, Permit Number: 28-D963-200337. Gigalight's WDM equipment includes system equipment, WDM optical transceivers and WDM passive devices, Supports multiple data rate such as 10G / 16G / 25G etc. and supports commercial and industrial temperature environment applications. With the flows of the 5G tide, Gigalight's 5G product line developed over the past two years has begun to make a brilliant future .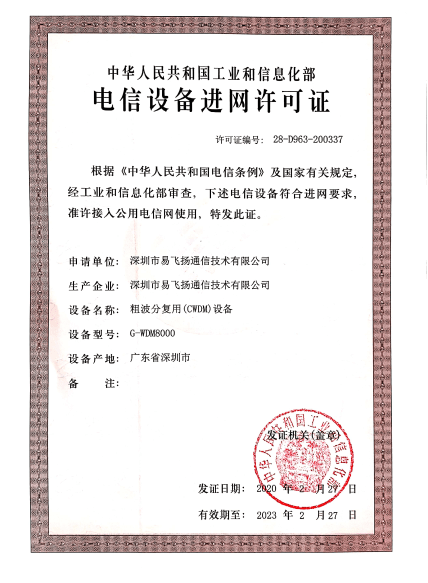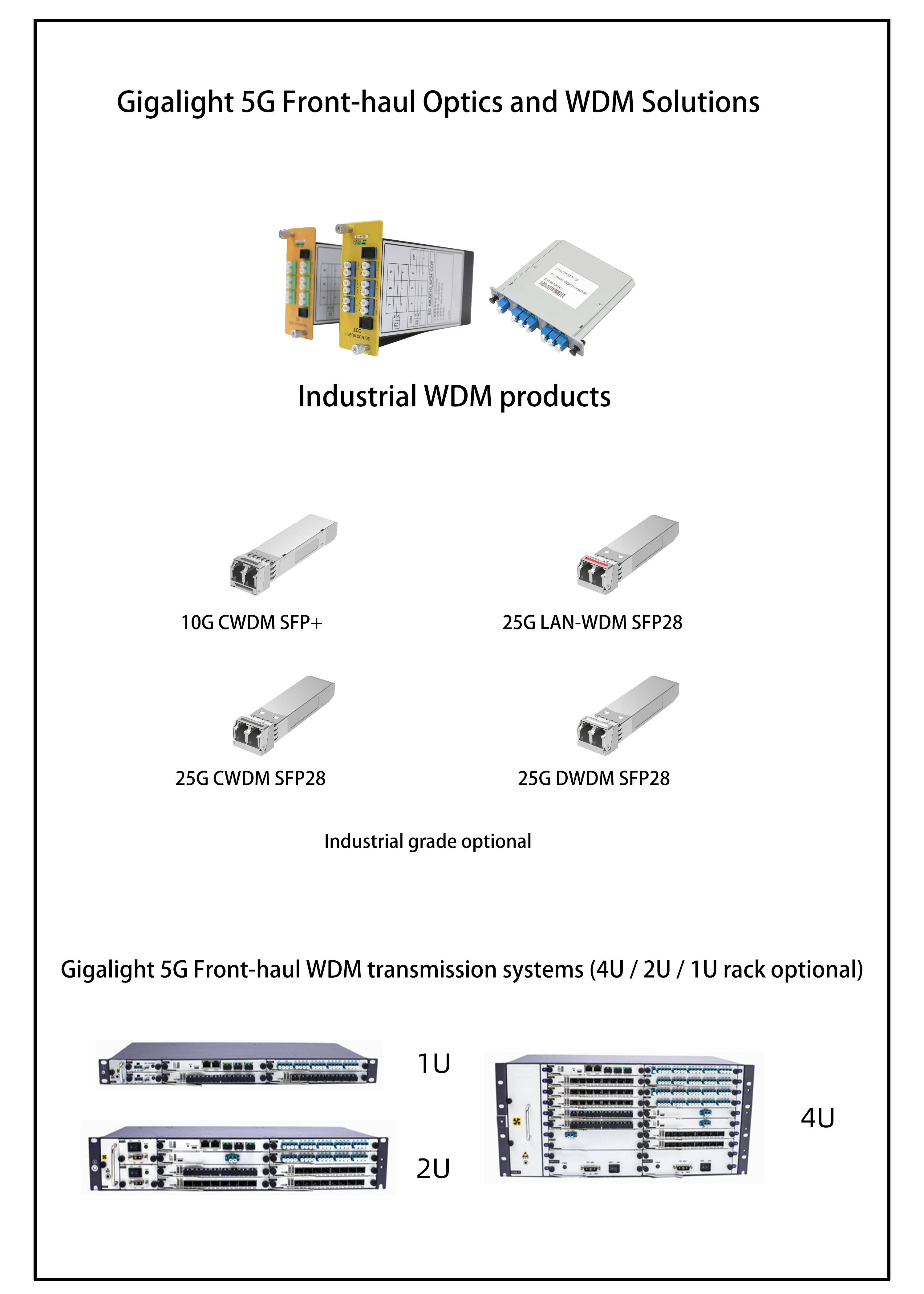 Gigalight entered the commercial 5G Front-haul WDM solutions as follows:
<5G fronthaul Optical transceiver solutions>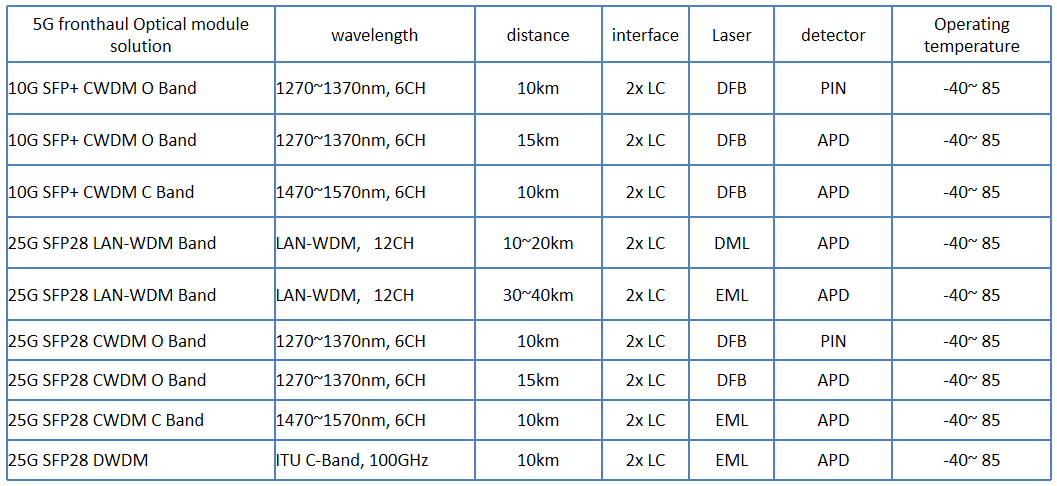 <Passive WDM Product Portfolio>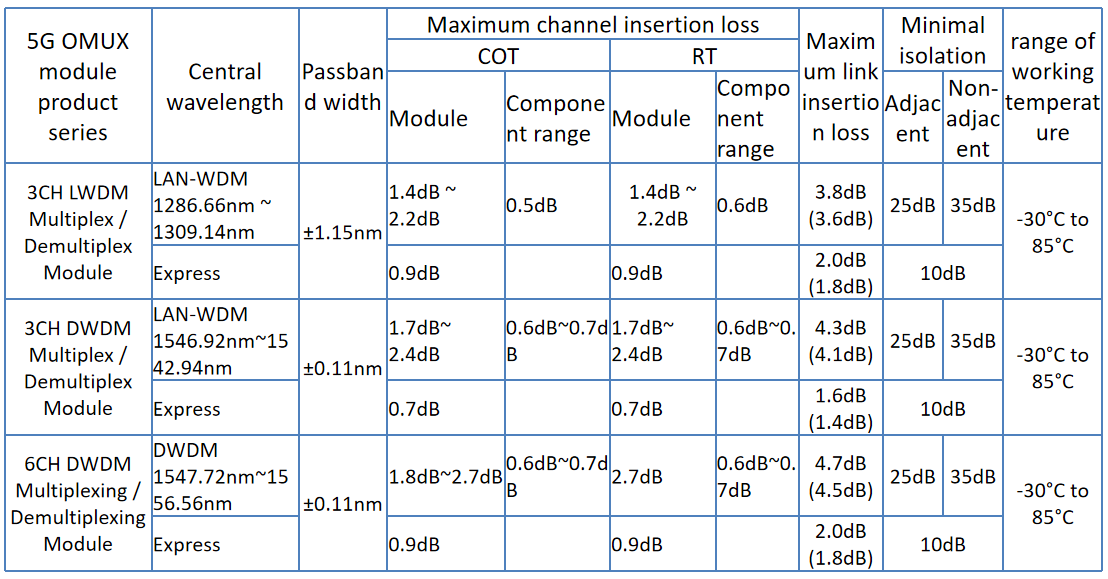 In these product categories:
10G CWDM SFP+series transceivers support 10G、10G CPRI and compliant with OTN OTU2e ,reach up from 10km to 70km, less than 1.5W ultra-low power supply voltage , industrial grade specifications.
25G LAN-WDM series optical transceivers,Photoelectric interfaces are all 25G NRZ modulated signals,Power consumption < 2W,support the industrial temperature range.LWDM can provide 12-wave multiplexing, laser EML / DML is optional, reach up from 10km to 30km.
25G CWDM SFP28 series optical transceivers are Hot-pluggable SFP28 form factor,compliant with 25G Ethernet and CPRI/eCPRI specifications,support CWDM link transmission. The 10KM CWDM SFP28 adopt the PIN transmitter and PIN receiver, power consumption< 1.2W; the 20KM CWDM SFP28 adopts thetransmitter and PIN receiver , power consumption < 1.8W.
The 25G DWDM series optical transceivers adopt EML+PIN TOSA/ APD ROSA, power consumption < 2.0W. The transmission distance is 2km/ 10km. Support ITU C-band 100GHz 44 band optional.
Passive WDM transceivers can provide industrial-grade low insertion loss dual star 1: 6/1: 12/1: 18 passive WDM transceivers and 5G OMUX series products. Passive WDM series products have been commercialized in large quantities by operators in South Korea, such as KT, etc.
The Gigalight's WDM product line have automated auxiliary production lines and advanced equipment, which can provide customers with flexible and convenient delivery, look forward to more customers use and approval!