Shenzhen, China, Nov 30, 2022 – After several months of rigorous client testing and trials, GIGALIGHT has successfully developed a full range of industrial-grade 50G SFP56 PAM4 optical modules and plans to put them into production.
Compared with the 25G SFP28 optical module currently used in 5G fronthaul, the 50G SFP56 optical module has the same package size, but the rate is increased to 50Gb/s, so it can save 50% of the ports, thereby further improving the density and bandwidth of 5G fronthaul, helping the 5G fronthaul network of O-RAN and vRAN architecture smoothly evolve to the next generation.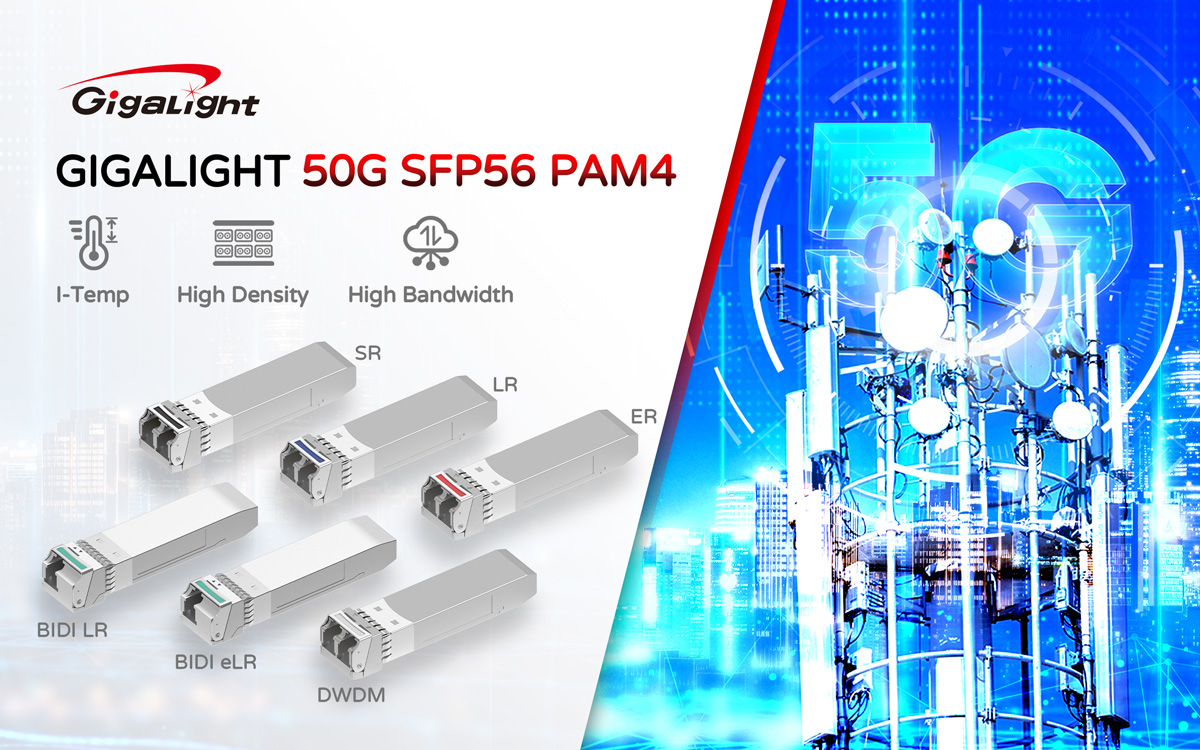 For most industry manufacturers, the 50G SFP56 PAM4 optical module adopts the traditional SFP package, which has great difficulties in terms of power consumption, heat treatment and high-density design of hardware. However, GIGALIGHT has overcome many difficulties, completed the established design tasks in terms of software and hardware, and launched a series of rich 50G SFP56 PAM4 optical modules.
50G SFP56 PAM4
SR
LR
ER
BiDi LR
BiDi eLR
DWDM
Reach
100m
10km
40km
10km
15km
6km/80~120km
Power Consumption
< 2W
< 3W
< 3.3W
< 3W
< 3.1W
LD
850nm VCSEL
1310nm EML
1310nm EML
1270nm/1330nm EML
EML
PD
PIN
PIN
APD
PIN
PIN
Tx Optical Power
> -6dBm
> -4.5dBm
> 0dBm
> -4.5dBm
> -4.5dBm
TDEC
< 4.9dB
< 3.2dB
< 3.2dB
< 3.2dB
< 3.2dB
RXsen @2.4E-4 Pre-FEC
-6.5dBm
-11dBm
-15dBm
-10.5dBm
-11.5dBm
-11dBm