Shenzhen, China, September 25, 2015 − Gigalight has announced the launch of 10G SFP+ AOC Checker GEN2. The new checker combines multiple functions including bit error test (8.5G and 9.95 to11.3G), power meter test, EEPROM writing/reading, and DDM monitor, with features of high test precision, low consumption and good portability.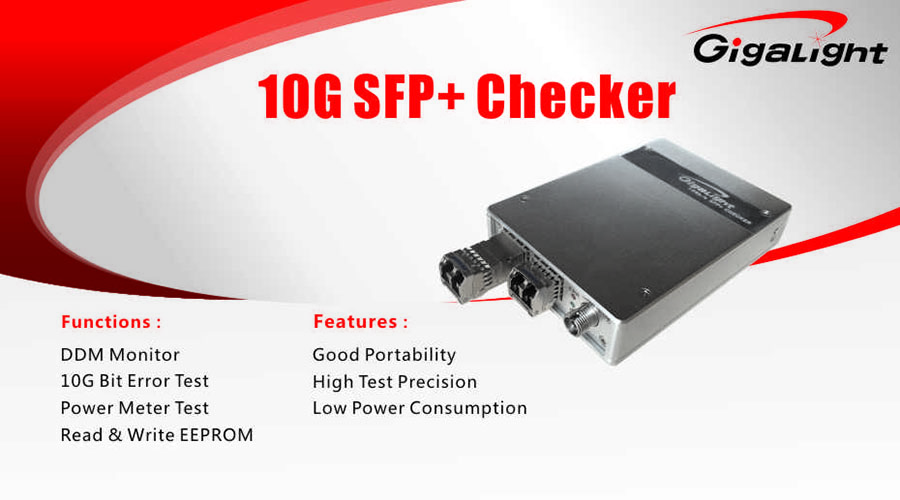 Highlights
Silvery metal appearance, small exquisite size, good portability
Supporting 8.5Gbps, 9.95~11.3Gbps SFP+ transceiver BER Test
Built-in optical power meter, test range default as 1270~1550nm (850nm optional)
Interfaces: Mini USB port, two SFP+ port (supporting BIDI module loopback test)
Real-time DDM monitor reading and DDM Threshold reading
EEPROM writing & reading, flexible configuration for SFP+ compatibility
Simple graphical user interface, and no need for USB driver
OS operating system: Win XP 32bit/64bit, Win 7 32bit/64bit
External 5V direct current power
Applications
In the central interchanger and data center apparatus room, used for SFP+ modules maintenance, problem detection, and transmission capability & signal reception level confirmation; In distribution center and quality inspection, used for SFP+ information search, verifying whether SFP+ module meets the order requirements, and checking factory version, etc.; In production/R&D laboratory or solution field, used for verifying SFP module optical property, bit error test, power meter, EEPROM writing & reading, DDM monitor, etc.