Shenzhen, China, October 26, 2016 − Gigalight has announced the launch of checkers for 25G SFP28 AOC and 100G QSFP28 AOC used in Gen2 data centers.
These checkers support up to 28Gb/s BERT per channel, read & write EEPROM, display DDM monitoring and are with features such as high test precision, low power consumption and portable lightness. They are available to flexibly test the working condition and performance of 25G SFP28 transceivers or AOC and 100G QSFP28 transceivers or AOC, so that Gigalight can simplify the operation and reduce the cost for integrator and distributor clients.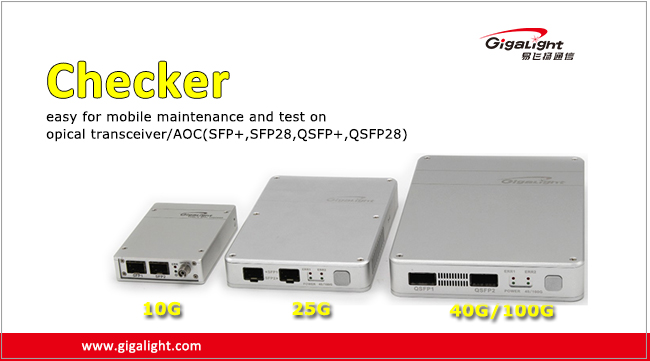 Designed for Uses in Optical Communication and Data Communication
Applied in central switches, data center room, etc., for maintenance and test of 25G SFP28 transceiver/AOC and 100G QSFP28 transceiver/AOC
In distribution center and quality inspection, used for transceiver EEPROM information inquiry, verify to the order demand, and check factory version
In production/R&D lab or solution site, used for BER test, read & write EEPROM, and DDM real-time monitoring
Gigalight checker family now has three types: 10G SFP+ AOC Checker, 25G SFP28 AOC Checker, and 40G/100G QSFP AOC Checker.