Shenzhen, China, August 17, 2015 − Gigalight has announced the lanuch of the second generation multimode parallel optical engine that is capable of real-time monitoring on 4-12 channels of TX optical power, and equipped it on the Gigalight 40G QSFP+ SR4 GEN2 optical transceiver. The core objective of second generation optical engine is to develop a micro-optics structured lens, realize power-monitoring of multichannel parallel VCSEL light path, and bond easily to high speed module circuit boards.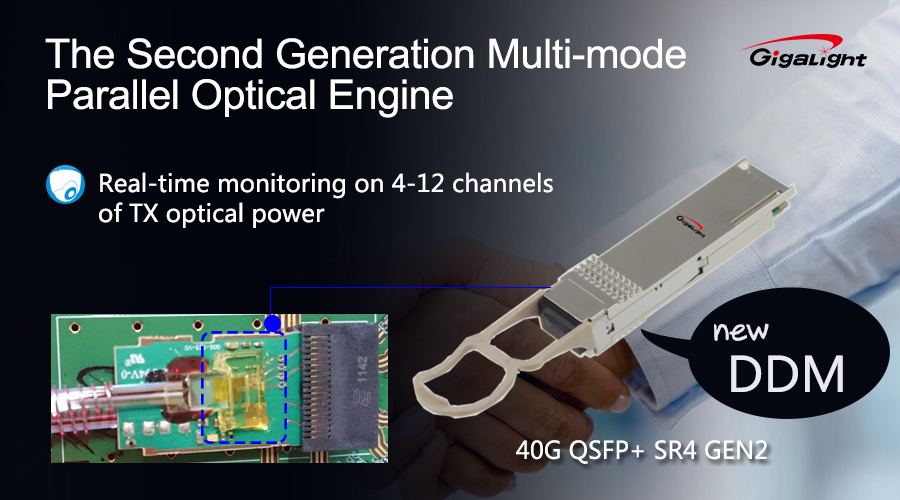 Gigalight 40G QSFP+ SR4 GEN2 optical module applies integrated optical device which carried our innovative coupling lens array, to realize real-time monitoring of TX optical power, the function can effectively monitor and stabilize the TX optical power. The common QSFP+ SR4 optical module on the market actually do not have the TX optical powerreal-time monitoring function, for that is not only restricted by launch mode of VCSEL array, but also very difficult to embed a feedback optical signal on the current QSFP+ form factor. Gigalight successful development of 40G QSFP+ SR4 GEN2 strengthens the leadership in optical engine technology.
The optical eye diagram margins for all the 4 lanes are higher than 30%, Rx sensitivity is better than -13 dBm, and TX power monitoring for 4 channels is normal.
About Gigalight:
Gigalight is a global optical interconnection design innovator. We design, manufacture and supply various kinds of optical interconnect products including optical transceivers, passive optical components, active optical cables, MTP/MPO cabling, and cloud programmers & checkers, etc. These products are designed for three main applications which are Data Center & Cloud Computing, Metro & Broadcast Network, and Wireless & 5G Optical Network. Gigalight takes the advantages of exclusive design to provide customers with one-stop optical network devices and cost-effective products.