Shenzhen, China, June 17, 2015 − The high-profile InfoComm USA show will be held on June 13-19, 2015 in Orlando—the city of science and technology, in which Gigalight is going to showcase the new products for broadcast video networks. The new products include USB 3.0 AOC, HDMI AOC, HD signal long distance transmission solution based on HDMI 1.4 optical fiber extender and 3G video optical modules. It's a big pleasure to welcome you to come and visit, our booth number is #3082.
Gigalight HDMI extender can realize long distance signal transmission. Thanks to its unique high speed optical transmission system, all the 3D/4K/1080p HD signals of TV, DVD, set-top boxes and so on can be transferred to LED display, television, projector, etc. 400 meters away through the HDMI 1.4 interface, while keeping sounds and pictures with the same quality. The maximum transmission data rate is 10 Gbps.
HDMI optical extender is a perfect solution for the deployment of large screen advertising, large video conferences, home theater, medical equipments, financial system, public transportation and other environments.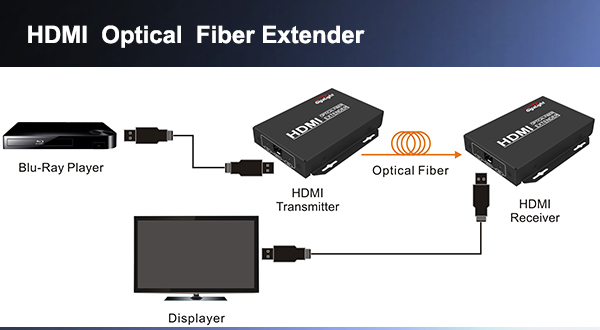 Gigalight is one of the few companies researching and developing USB 3.0 AOC. Designed particularly for customers with high bandwidth data demand and long-distance transmission needs, Gigalight USB 3.0 AOC supports 5Gbps transmission data rate between hosts and devices and 100m transfer distance. Plug and play, armored design, electromagnetic interference resistance, diameter and weight a third of traditional copper cable—all these advantages help USB 3.0 AOC to be installed, expanded and maintained quite easily. USB 3.0 AOC along with USB 3.0 hub could provide customers with a superior data transmission solution and be widely applied in industrial cameras and cloud terminal systems, covering industrial automation, intelligent traffic control, education areas, office areas, public areas, etc.
Meanwhile, catering to the HD audio and video long distance transmission demand, Gigalight has also lanuched HDMI AOC with HDMI 1.4 interface, with the data rate up to 10 Gbps and maximum transmission distance up to 100 meters.
About GIGALIGHT
As a global design innovator in the field of optical interconnection hardware, GIGALIGHT integrates the design, manufacturing and sales of active and passive optical components and subsystems, and provides customers with comprehensive and innovatively designed high-speed optical interconnection hardware solutions. The product lines cover optical transceivers, passive optical components, coherent optical modules and subsystems. The key range of services include data centers, 5G bearer networks, metro WDM transmission, ultra-high-definition broadcast video and other application fields.