Shenzhen, China, Mar 3, 2023 – GIGALIGHT announced to showcase its portfolio of high-performance computing and immersion liquid cooling interconnect hardware at Data Centre World 2023 in London, looking forward to meeting you on March 8th/9th at booth #D780.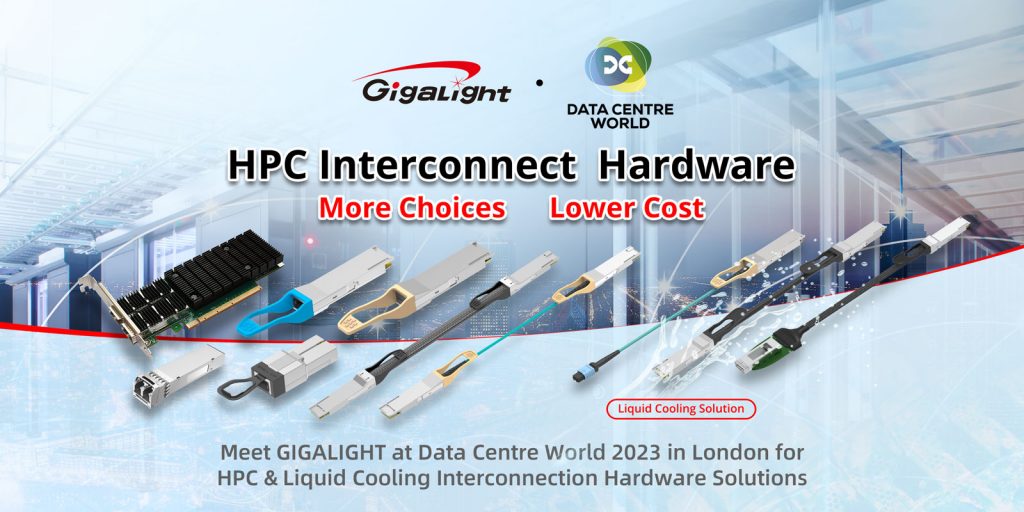 In order to cater to the development trend of high computing power in data centers, GIGALIGHT has launched a series of interconnection hardware products with high speed, low power consumption and high reliability to reduce the cost pressure brought by broadband growth and energy consumption for customers. Follow the guide to know about our exhibiting products in advance.
Immersion Liquid Cooling Family
25G SFP28 SR/LR, 100G QSFP28 SR4/PSM4/CWDM4 and 200G QSFP56 SR4/FR4 immersion liquid cooling transceivers
25G SFP28, 100G QSFP28 and 200G QSFP56 immersion liquid cooling DAC cables
40G QSFP+, 100G QSFP28 and 200G QSFP56 immersion liquid cooling extenders
Network Adapters & Transceivers for High-Performance Servers
Dual-port 25G Ethernet network adapter
Single-port 40G Ethernet network adapter
Dual-port 100G Ethernet network adapter
Low Power Interconnection and I/O Testing Solutions
100G QSFP28, 200G QSFP56, 400G QSFP-DD, 400G QSFP112 and 800G QSFP-DD DAC high-speed cables
100G QSFP28, 200G QSFP56 and 400G QSFP-DD AOC high-speed cables
25G SFP28, 100G QSFP28, 200G QSFP56 and 200G QSFP-DD loopback modules
As the open optical network device explorer, GIGALIGHT is one of the earliest companies in China to deploy optical interconnection solutions for data centers, and has a rich product line with the most differentiated technology in the industry. We are looking forward to discovering the latest trends and solutions with industry colleagues at this exhibition.
About GIGALIGHT
As the open optical network device explorer, GIGALIGHT integrates the design, manufacture and sales of active & passive optical devices and subsystems. The main products are optical transceivers, silicon photonics transceivers, liquid cooling transceivers, optical passive components, AOC & DAC, coherent optical modules and open DCI BOX subsystems. GIGALIGHT is a hardware solution provider of innovatively designed high-speed optical interconnection that focuses on data center, 5G carrier network, metro WDM transmission, UHD broadcast video and other application fields.