Shenzhen, China, July 27, 2022 – With the vigorous growth of the 8K ultra-high-definition broadcast market, users are putting forward new demands for the extension transmission of 8K uncompressed SDI baseband video. For 8K applications, SDI interfaces usually adopts 4x12G SDI connections. In regards to this interface application, GIGALIGHT introduces 48G-SDI (4X12G) broadcast-grade video optical transceiver kit solution. This solution fulfills the requirement of transmitting 4 uncompressed 12G-SDI signals over a 20km single-mode fiber, enabling users to quickly deploy 8K uncompressed SDI baseband fiber extensions and simplifying user operations.
GIGALIGHT's 48G-SDI (4X12G) broadcast-grade video optical extender kit solution includes a transmitting optical transceiver, a receiving optical transceiver and two external power supplies. Each 12G-SDI channel is independent,the rate is backward compatible, and it is supporting any SDI working rate from 270Mbit/s to 12Gbit/s.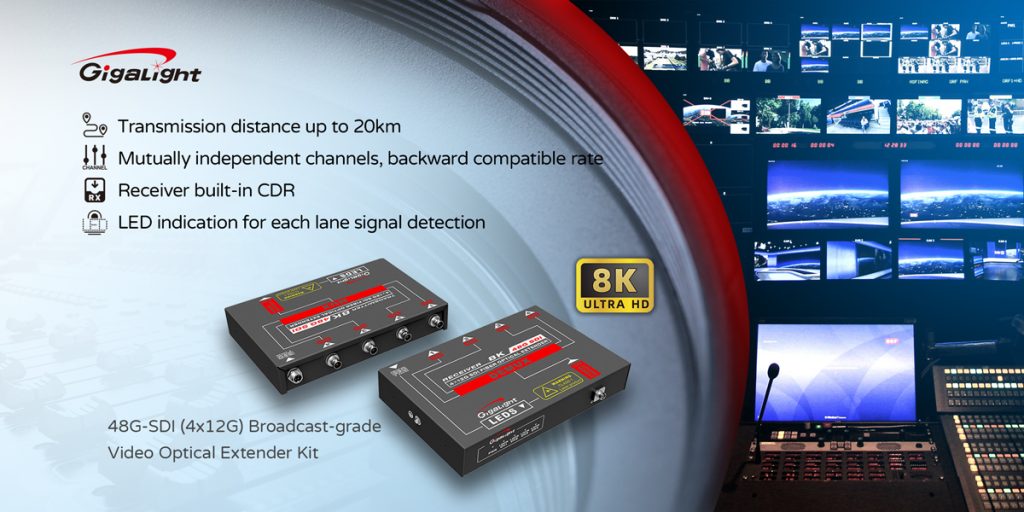 GIGALIGHT 48G-SDI broadcast video optical extender product diagram (including transmitter or receiver)
Each port supports the following rates:
SD,HD,3G,6G,12G auto data rate detection
SMPTE ST 2082-1 (11.88Gbps/s)
SMPTE ST 2081-1 (5.94Gbps/s)
SMPTE ST 424 (2.97Gbps/s)
SMPTE ST 292 (1.485Gbps/s)
SMPTE ST259(360Mb/s),DVB-ASI(270Mb/s),MADI (125Mb/s)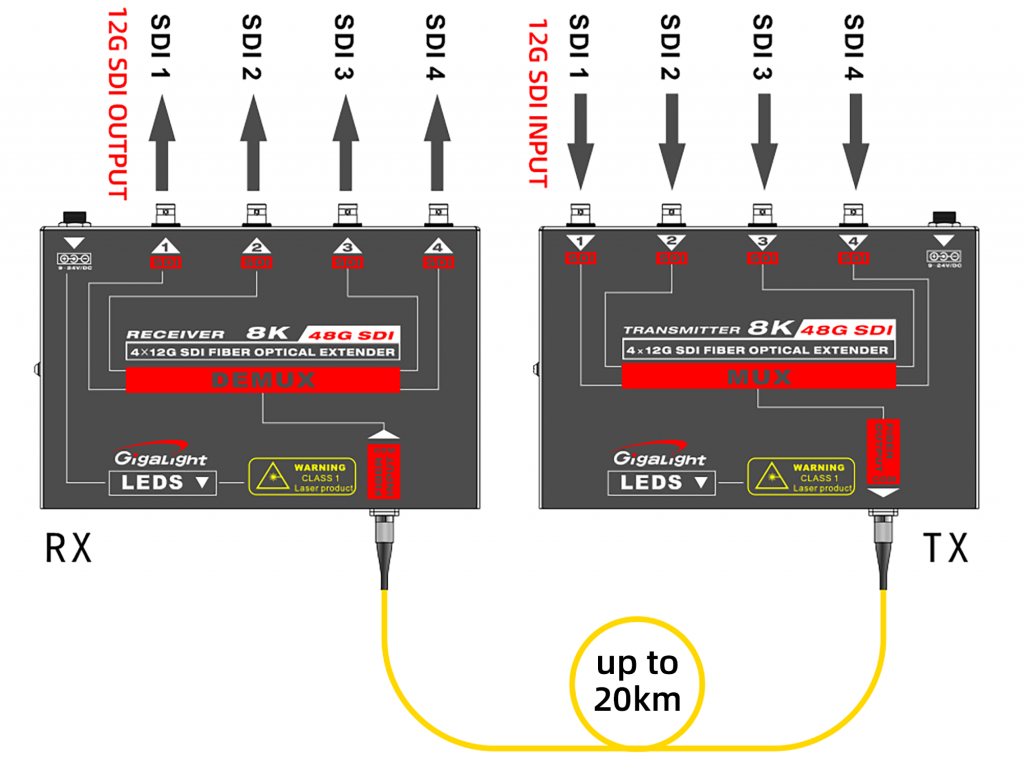 GIGALIGHT 48G SDI Broadcast Video Optical Extender Transmission Solution
About GIGALIGHT
As the open optical network device explorer, GIGALIGHT integrates the design, manufacture and sales of active & passive optical devices and subsystems. The main products are optical transceivers, silicon photonics transceivers, liquid cooling transceivers, optical passive components, AOC & DAC, coherent optical modules and open DCI BOX subsystems. GIGALIGHT is a hardware solution provider of innovatively designed high-speed optical interconnection that focuses on data center, 5G carrier network, metro WDM transmission, UHD broadcast video and other application fields.