Shenzhen, China, June 19, 2023 – From June 28th to 30th, GIGALIGHT will be showcasing an exciting range of new products and demonstrating silicon photonics technology at the Japan FOE Exhibition.
FOE Exhibition is one of Asia's most influential optical communication exhibitions, gathering top global optical communication companies and professionals. We are honored to participate in this grand event and showcase the latest optical communication solutions at booth 14-40.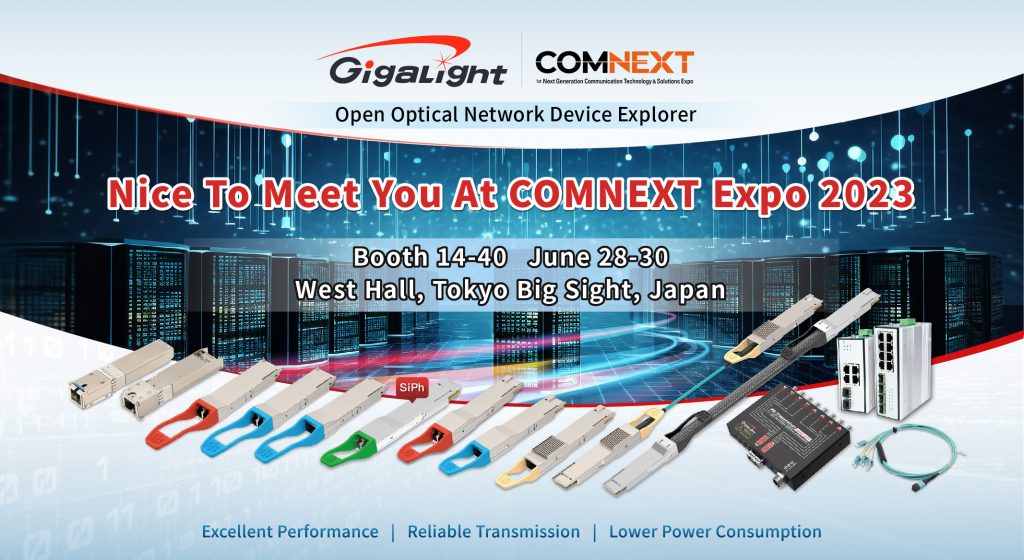 As a company dedicated to technological innovation and product excellence, we will present products in various fields and diverse application scenarios such as data centers, metropolitan telecommunications, industrial access and transmission, and high-definition video.
Specifically, our data center interconnect modules and cable series include high-speed multi-mode optical modules and AOCs, high-speed single-mode optical modules, direct attach copper cables (DAC), MPO cabling, and next-generation data center silicon photonics solutions. They are designed for short-distance connections within data centers, providing reliable transmission performance while ensuring efficient operation, reliability, higher bandwidth, and lower power consumption for data centers, thus contributing to smarter and more sustainable operating environments.
The metro DWDM module series offers 25G/50G/100G rate modules with outstanding performance and reliability. They provide high-speed, high-bandwidth transmission capabilities for metropolitan optical networks, meeting the growing data demands. Compared to traditional optical modules, our metro DWDM modules feature richer packaging options like SFP-DD and lower power consumption while delivering excellent transmission performance.
The XG(S) PON Combo PON modules support multiple PON standards, including XG-PON, XGS-PON, and Combo PON. These modules offer high integration and flexibility, delivering high-speed, high-quality broadband connections for optical access networks, meeting the needs of different operators and enterprises.
Our industrial Ethernet switch series provides cost-effective solutions for Ethernet connectivity in industrial environments. The products feature high reliability, stability, durability, industrial temperature range, high-speed transmission, and simple management. They are suitable for various industries such as manufacturing, energy, transportation, construction and infrastructure, mining and metallurgy, as well as military and defense, providing reliable network connectivity and communication solutions.
We sincerely invite industry colleagues to visit the GIGALIGHT booth (14-40) to experience our advanced technology and solutions. Our technical team will provide live demonstrations and solution consultations during the exhibition, sharing the latest trends and innovative applications in optical communication technology. Let's exchange ideas and create the future of optical communication together!
About GIGALIGHT
As an open optical network device explorer, GIGALIGHT integrates the design, manufacturing, and sales of active and passive optical devices and subsystems. Its products mainly include optical modules, silicon photonics modules, liquid-cooled modules, passive optical components, active optical cables, direct attach copper cables, coherent optical communication modules, and OPEN DCI BOX subsystems. GIGALIGHT focuses on serving applications such as data centers, 5G transport networks, metropolitan wavelength division multiplexing (WDM) transmission, and ultra-high-definition broadcasting and video. It is an innovative high-speed optical interconnect hardware solutions provider.