Shenzhen, China, June 21, 2023 – In terms of cost-effectiveness and long-term viability, 200G data centers continue to reign supreme. The advantages of low power consumption and effective technical solutions make them particularly appealing for underdeveloped countries or enterprise-level data centers. As the open optical network devices explorer, GIGALIGHT is dedicated to the development of cost-friendly data center technologies. In line with this vision, GIGALIGHT recently unveiled a 200G QSFP56 DR4/FR4 data center optical module based on the PAM4 DML platform, further solidifying and highlighting the advantages of 200G in certain data center domains.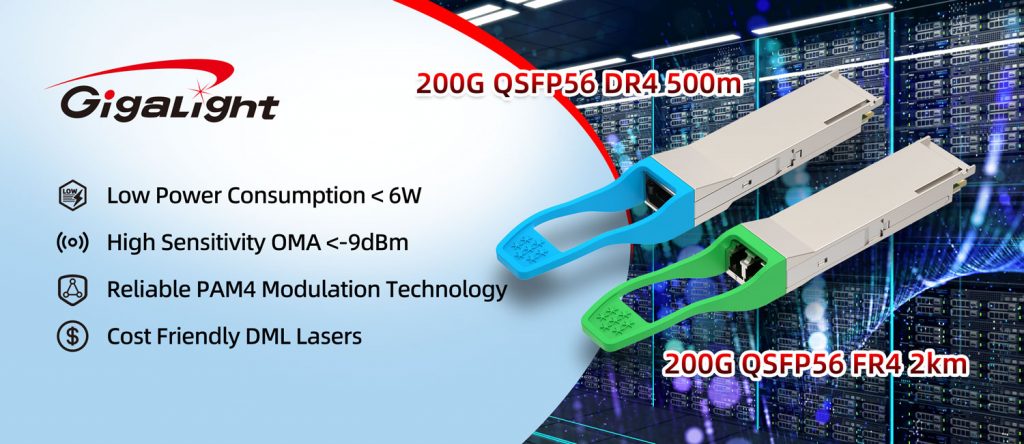 The new 200G QSFP56 DR4/FR4 module utilizes PAM4 modulation technology and DML lasers to deliver high-speed transmission and exceptional performance. Two versions are available, allowing for selection based on the mid-short distance transmission within the data center. Both the DR4 and FR4 modules have a power consumption of less than 6W, resulting in reduced energy consumption and operational costs. The FR4 module exhibits superior receive sensitivity OMA compared to the DR4 module (by 1dBm), with excellent performance parameters including high OMA sensitivity (<-9dBm). This makes it adaptable to various application scenarios, providing high-quality signal transmission and maintaining a good eye diagram quality under PAM4 modulation.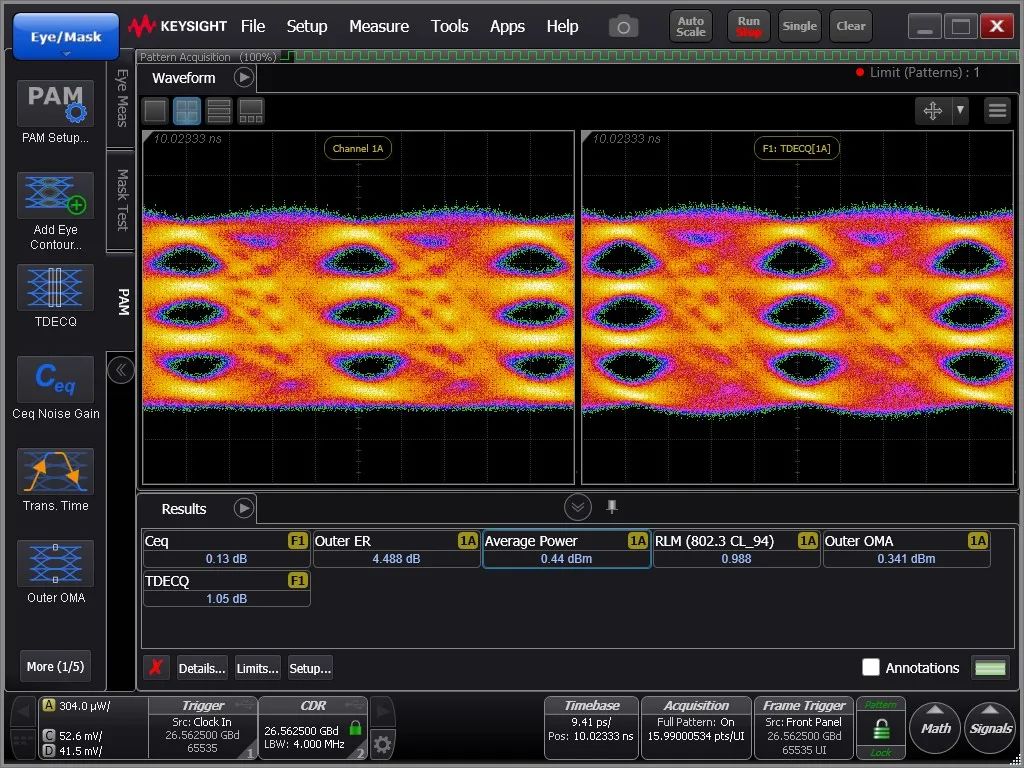 With the continuous growth of network data and the diversification of application demands, data centers indeed require higher bandwidth and greater scalability. Under the premise of meeting broadband requirements and application needs, the 200G data center demonstrates clear advantages compared to both the 100G and 400G data centers. It is crucial to have an objective understanding of the true meaning of "advantages" and not simply chase after the evaluation based solely on "technological advancements."
For a comprehensive return on investment in a 400G data center, the only viable path is to adopt a silicon photonics technology platform. As for the emerging star, the 800G data center, it also requires a clear definition of its application scope. It is crucial to understand that 800G represents a diversified data center.
GIGALIGHT has always been committed to providing customers with high-performance, highly reliable, and more cost-effective optical communication solutions. With a rich product line of 200G solutions, including QSFP-DD and QSFP56, the introduction of the upgraded 200G QSFP56 DR4/FR4 optical module offers more cost-effective choices for building high-speed, green data centers.
About GIGALIGHT
As an open optical network device explorer, GIGALIGHT integrates the design, manufacturing, and sales of active and passive optical devices and subsystems. Its products mainly include optical modules, silicon photonics modules, liquid-cooled modules, passive optical components, active optical cables, direct attach copper cables, coherent optical communication modules, and OPEN DCI BOX subsystems. GIGALIGHT focuses on serving applications such as data centers, 5G transport networks, metropolitan wavelength division multiplexing (WDM) transmission, and ultra-high-definition broadcasting and video. It is an innovative high-speed optical interconnect hardware solutions provider.