HDMI 2.0 Active Optical Cables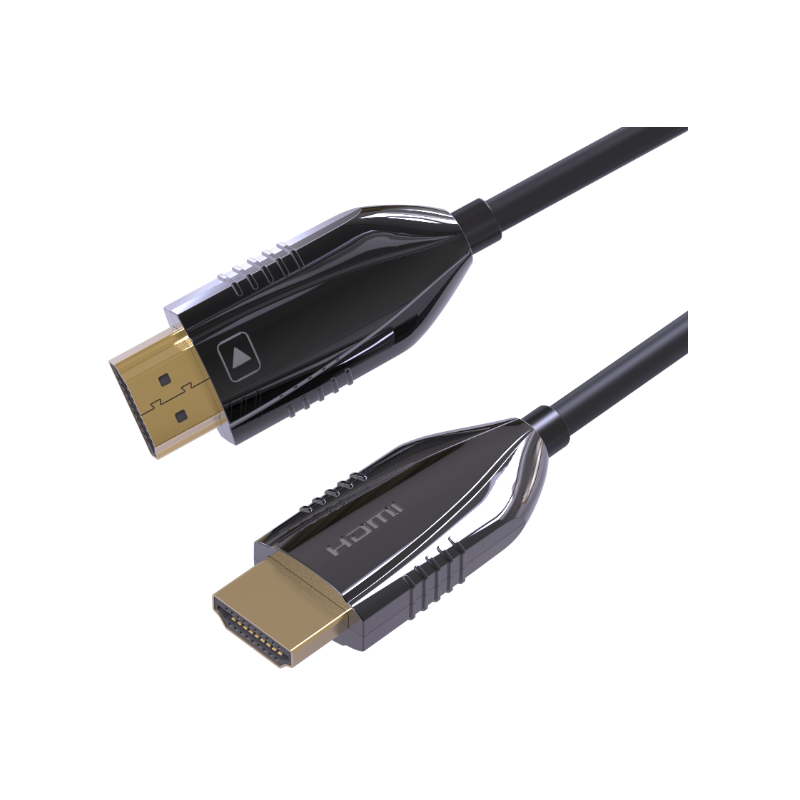 HDMI 2.0 AOC
GIGALIGHT's HDMI 2.0 AOC (active optical cable) is used to extend the distance of transmission between HDMI Source and Sink devices up to 100m through a hybrid cable that consists of optical fibers and copper wires. The high-speed TMDS signals are transmitted through multimode fibers, while the low frequency DDC and control signals are transmitted through copper wires.
Get a Quote
Features
Applications
Datasheets
More
| Part Number | Product Description |
| --- | --- |
| G-HDC2I-180-xxxC2 | HDMI 2.0 Active Optical Cable, 1m-100m |
Note: xxx options are 001-100. 001 means 1-meter, 010 means 10-meter, and 100 means 100-meter.
Examples: G-HDC2I-180-001C2, G-HDC2I-180-002C2, ..., G-HDC2I-180-100C2 etc.
HDMI 2.0 Active Optical Cable - G-HDMI-180-xxxC2
Extend HDMI up to 100m over MMF
Compliant to link with all HDMI A-type connector
Compliant with HDMI 2.0 version and Category 2 (600MHz clock frequency) specifications
850nm VCSEL array transmitter, PIN array photo-detector receiver
Support 4K@60/3D/1080p/1080i/720p format
Support DHCP/EDID/CEC/DDC/Audio
Data rate up to 18Gbps (6Gbps per channel)
Plug and Play, no software to be installed
Longer and thinner cable without EMI/RFI emissions
Power consumption < 0.5W
Operating case temperature range: 0 to 60°C
All-metal housing for superior EMI performance
RoHS compliant (lead free)
Blue-ray, DVR, projector
Video Games
Computers and mobile to 4K@60 display
Get a Quote
Name

*

Email

*

Company

*

Phone
Product

*