Shenzhen, China, June 25, 2021 − The first Yangtze River Delta Optical Communication Industry Summit Forum with the theme of "Optical Linking Everything, Colorful Future" was grandly held in Suzhou on June 23-25. At the meeting, GIGALIGHT's 8-channel optical design 400G QSFP-DD LR8 optical module won the "2021 Innovative Product Award" in the optical module category for its outstanding product performance and unique architecture design.
Subvert Tradition, Breakthrough Innovation

GIGALIGHT 400G QSFP-DD LR8 is a hot-pluggable optical transceiver module, using a single PCB design. The power consumption is less than 12W under three temperature conditions, which is at the leading level in the industry. At the same time, the product has excellent signal integrity and photoelectric integrated design. Due to the 50G PAM4 CDR based on DSP technology, the product has excellent performance and fully meets the application of single-mode dual-fiber G.652 transmission for 10km.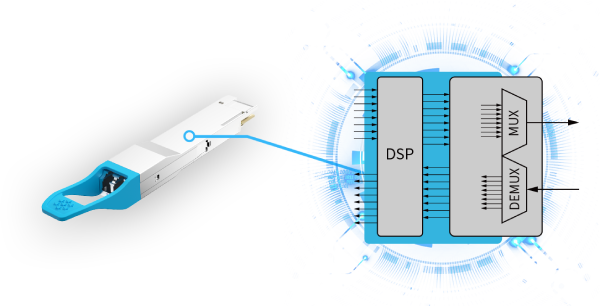 The product innovation points mainly include:
The self-developed 8-channel wavelength division optical engine design can greatly improve the productivity and reliability.
Single PCB high-density circuit design, which is the pioneer in the industry, and at the same time proves the signal integrity design ability.
The conceptual architecture of the 8-channel optical module was formally proposed, which poses challenges and differences to the industry's traditional 4-channel optical module.
Because the relevant design of this module has achieved the industry-leading performance (including power consumption), it is selected by the jury, and we are deeply honored to be here!
About GIGALIGHT
As the open optical network device explorer, GIGALIGHT integrates the design, manufacture and sales of active & passive optical devices and subsystems. The main products are optical transceivers, silicon photonics transceivers, liquid cooling transceivers, optical passive components, AOC & DAC, coherent optical modules and open DCI BOX subsystems. GIGALIGHT is a hardware solution provider of innovatively designed high-speed optical interconnection that focuses on data center, 5G carrier network, metro WDM transmission, UHD broadcast video and other application fields.