Shenzhen, China, September 27, 2022 – With the rapid growth of the DCI optical network traffic in global data centers, metro and long-haul DCI have become the two most important applications. The particularly rapid development of metro DCI market puts forward higher bandwidth requirements for the DCI electrical layer chassis. For this reason, GIGALIGHT launches the 1U 1.6T DCI large-capacity and high-density transmission subsystem equipment based on single lambda 400G coherent technology, which completely fulfills the demand of DCI market development.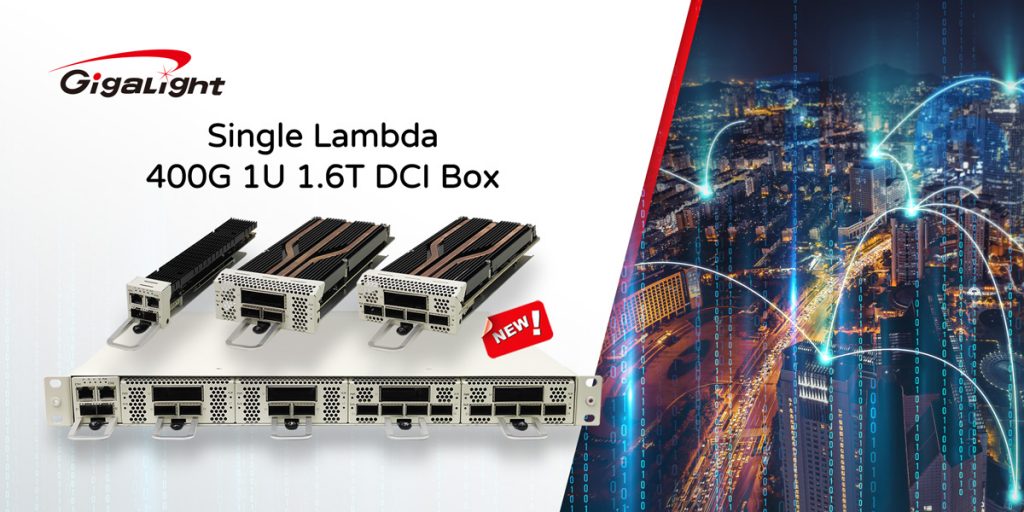 Features of the GIGALIGHT 1U 1.6T DCI BOX:
Easy to start up. The DCI equipment can be deployed quickly
Optoelectronic-separated open white box design
High integration and large bandwidth

1U chassis is high-density integrated and bandwidth of single lambda coherent is 400G, which achieves 64-wave 25.6Tbits single-fiber large capacity transmission
The 1U chassis client-side supports 16X100GE QSFP28 service access, and the coherent line-side adopts 4X400G DWDM bearer

Superb transmission performance

Provides ultra-long single span 180km@100G, 160km@200G DWDM transmission solutions
Provides 3000km+@100G, 2000km@200G, 500km@400G DWDM transmission solutions without electrical relay

Designed for IT personnel, the 1U 1.6T DCI BOX supports easy intelligent operation, maintenance, and online upgrade. It adopts the Netconf/Yang interface, NMS, WEB and other network management methods
High reliability and modular design of power supply. The 1+1 protection of main control and power supply can prevent the impact of business by main control failure. The fans adopt 2+1 automatic speed control
Product Application Diagram:

The high-speed development of cloud computing has driven the rapid growth of DCI network over the past decade. In the foreseeable future, 5G network, Internet of Things (IoT), augmented reality (AR), virtual reality, and edge cloud computing will continue to drive the rapid growth of DCI network market. The single lambda 400G coherent 1U 1.6T DCI Box released by GIGALIGHT can better meet the needs of customers and enterprises, and will ultimately push cloud computing into a new stage.
About GIGALIGHT
As the open optical network device explorer, GIGALIGHT integrates the design, manufacture and sales of active & passive optical devices and subsystems. The main products are optical transceivers, silicon photonics transceivers, liquid cooling transceivers, optical passive components, AOC & DAC, coherent optical modules and open DCI BOX subsystems. GIGALIGHT is a hardware solution provider of innovatively designed high-speed optical interconnection that focuses on data center, 5G carrier network, metro WDM transmission, UHD broadcast video and other application fields.