Shenzhen, China, Nov 23, 2022 – As an 8-lane optics advocate, GIGALIGHT launches a series of new products to boost its market application. The company believes that this family of products will inject long-term reliability into metro telecom transport network and metro DCI network with its high performance and low latency.
From 200G to 800G, GIGALIGHT insisted on taking a different approach, focusing on the development of 8-lane optics architecture based on 25G NRZ, 50G PAM4 and 100G PAM4, and formed a rich product line.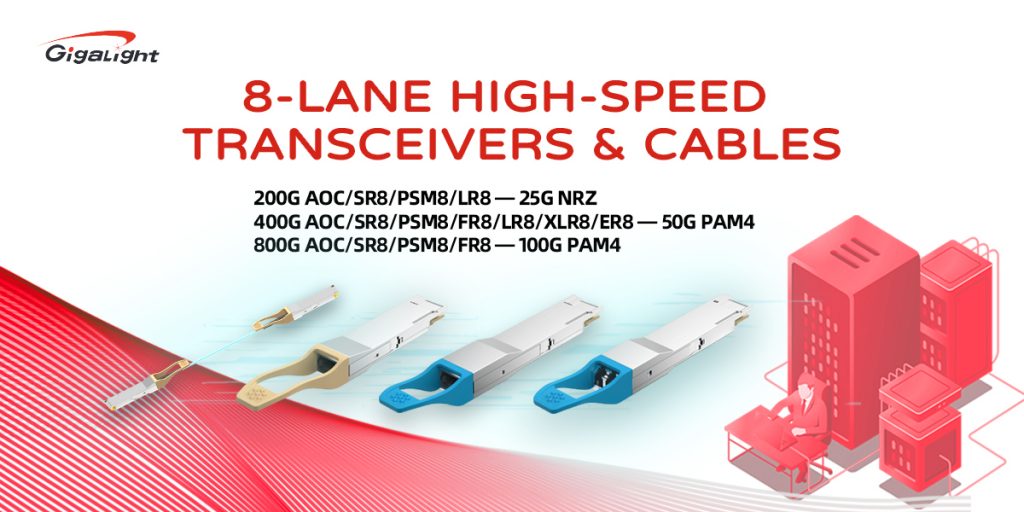 The newly launched 400G long-reach 8-lane optical transceivers adopt the optoelectronic integrated design based on 50G PAM4 DSP to ensure excellent signal integrity and performance. These modules support both 400G Ethernet and OTN, suitable for data center and telecommunications networks.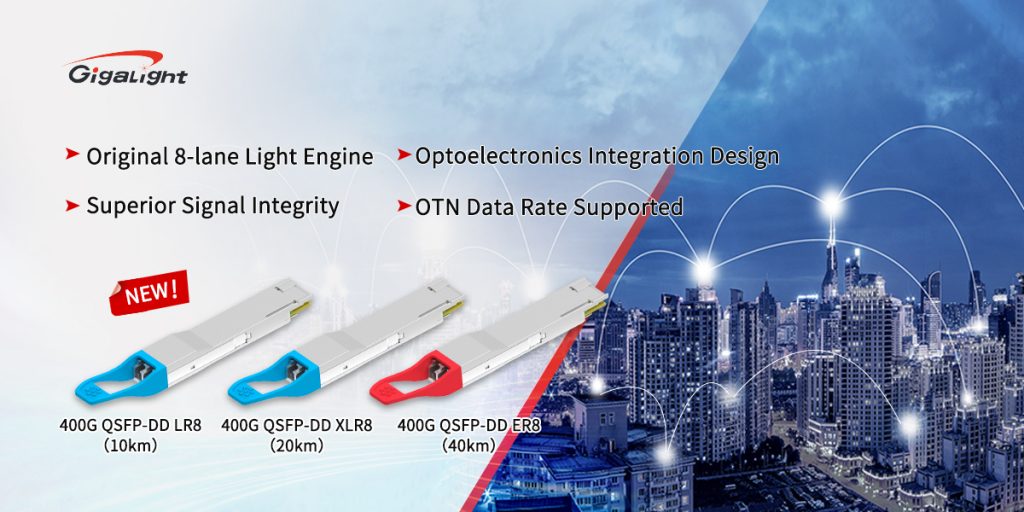 | 400G xR8 Transceivers | Reach | Transmitter | Receiver | OMA RXsen (@ 2.4E-4 Pre-FEC 26.5625GBd) | Maximum Power Consumption |
| --- | --- | --- | --- | --- | --- |
| 400G QSFP-DD LR8 | 10km | LAN-WDM EML | DEMUX + PIN | -7.1dBm | 12.5W |
| 400G QSFP-DD XLR8 | 20km | LAN-WDM EML | DEMUX + PIN | -9.1dBm | 12.5W |
| 400G QSFP-DD ER8 | 40km | LAN-WDM EML | DEMUX + APD | -16.1dBm | 15.4W |
In addition, GIGALIGHT can also provide 400G QSFP-DD FR4 transceivers based on 4 lanes of 100G PAM4, which together with GIGALIGHT's 8-lane long-reach transceivers build the company's foundation for next-generation metro telecommunications and metro DCI interconnects.
About GIGALIGHT
As the open optical network device explorer, GIGALIGHT integrates the design, manufacture and sales of active & passive optical devices and subsystems. The main products are optical transceivers, silicon photonics transceivers, liquid cooling transceivers, optical passive components, AOC & DAC, coherent optical modules and open DCI BOX subsystems. GIGALIGHT is a hardware solution provider of innovatively designed high-speed optical interconnection that focuses on data center, 5G carrier network, metro WDM transmission, UHD broadcast video and other application fields.