Shenzhen, China, May 19, 2023 – High-speed copper cable products have natural advantages in cost, power consumption, transmission delay, and failure rate, while active copper cable (ACC) further extends the transmission distance of passive copper cable products. Today, GIGALIGHT launched its first 800G active copper cable product – 800G QSFP-DD ACC, which helps high-speed data centers and AI high-computational applications.
GIGALIGHT 800G QSFP-DD ACC follows the QSFP-DD800 MSA and IEEE802.3ck specifications, using 16 pairs of copper cables to support bidirectional transmission of 8 channels at a rate of 112GB/s. Compared to the 2m maximum transmission distance of the 800G QSFP-DD PCC, the ACC extends up to 4m, which meets the cabling needs of typical data center short distance interconnects.
The products features are as follows,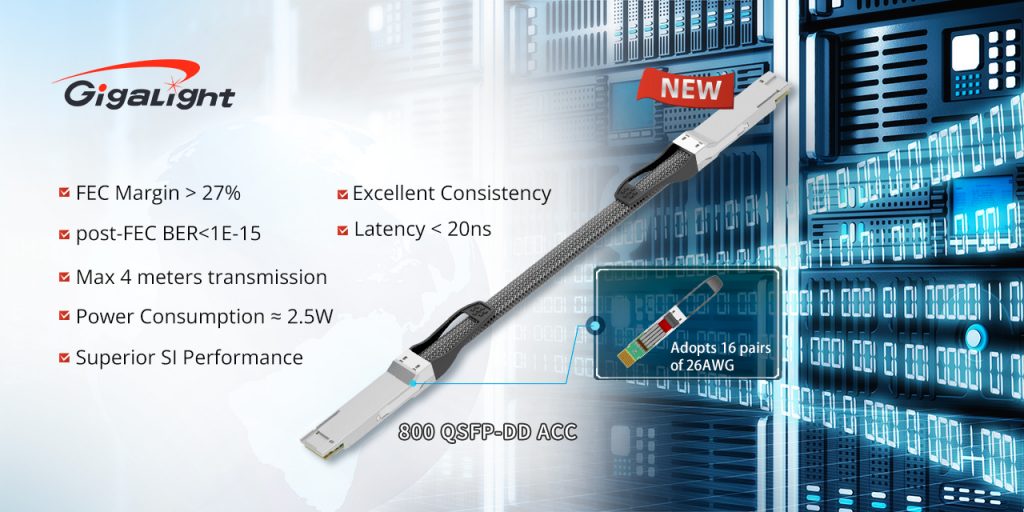 Shows superior SI performance and excellent consistency in 44GHZ network splitting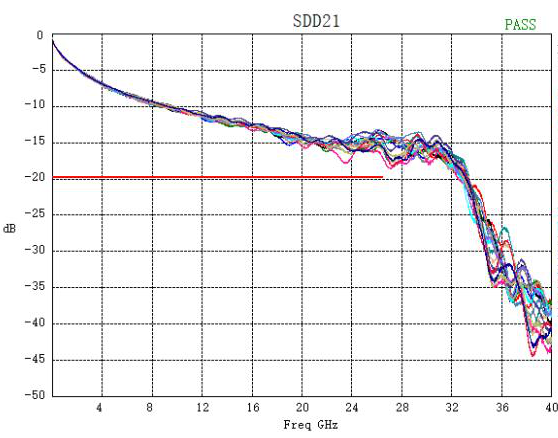 Tested on an 800G network tester with KP4-FEC enabled, it meets the IEEE Auto-Negotiation and Link Training requirements, with a Post-FEC BER <1E-15 and an FEC margin of more than 27%. The entire process FEC Frame Loss Ratio is 0.
The product adopts a Re-Driver scheme, with the power consumption of about 2.5W and the latency less than 20ns. Balance and signal-to-noise ratio balance are crucial, and the power consumption and delay are far superior to the Re-Timer scheme.
Utilizing innovative production technology ensures good reliability, and the 800G QSFP-DD ACC 26AWG 4m weighs only about 600g.
GIGALIGHT has now fully opened the 200G/400G/800G QSFP-DD series ACC product samples and plans to launch the OSFP series passive and active copper cable products in the second half of the year. Stay tuned for more updates!
About GIGALIGHT
As an open optical network device explorer, GIGALIGHT integrates the design, manufacturing, and sales of active and passive optical devices and subsystems. Its products mainly include optical modules, silicon photonics modules, liquid-cooled modules, passive optical components, active optical cables, direct attach copper cables, coherent optical communication modules, and OPEN DCI BOX subsystems. GIGALIGHT focuses on serving applications such as data centers, 5G transport networks, metropolitan wavelength division multiplexing (WDM) transmission, and ultra-high-definition broadcasting and video. It is an innovative high-speed optical interconnect hardware solutions provider.