Yancheng, Jiangsu, Dec 2, 2022 – CablesTEC, a subsidiary of GIGALIGHT, announced that the company has completed the assembly and commissioning of the automated production of the DAC workshop and officially put into production. CablesTEC's plant covers an area of 2500㎡, and the total annual production capacity of the DAC production line is more than 500K. The commissioning of the automated production line will provide OEM/ODM customers with more high-quality and high-delivery products and services.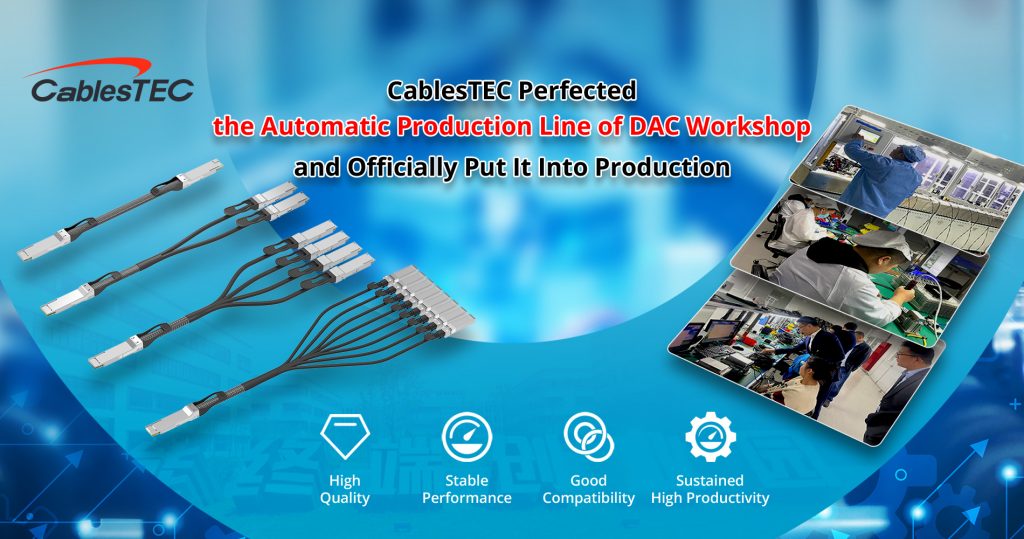 After nearly a year, CablesTEC rigorously pre-researched and jointly developed the product process plan, and finally completed the assembly and debugging of the automatic production line in the DAC workshop. Today, the production line covers nearly 30 processes of DAC manufacturing and testing, and is divided into three major functional modules: cable pre-processing, core post-processing, and automated testing.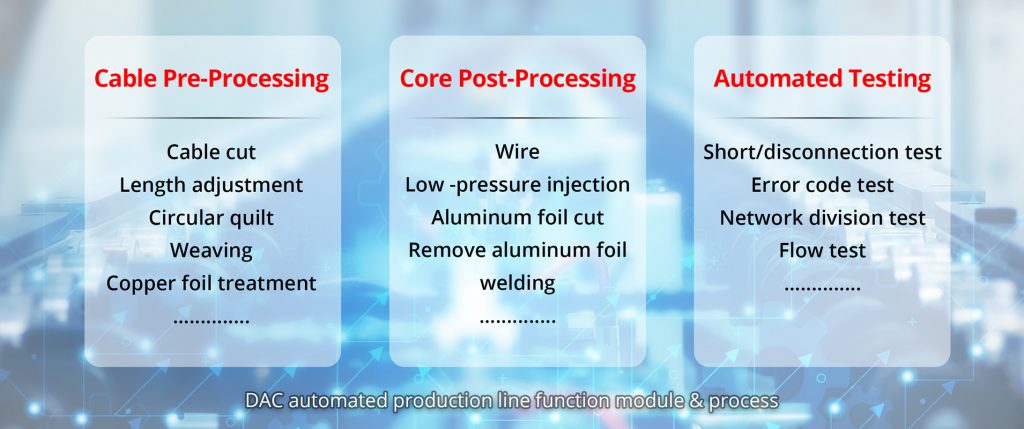 CablesTEC's DAC series products inherit the brand reputation and product quality of GIGALIGHT (one of CablesTEC's parent companies) – using well-known brand cables, the design process includes signal integrity, thermodynamic simulation, and FMEA and process DOE design verification. In addition, CablesTEC has applied for a number of technical patents, and the products have passed strict reliability and performance tests, and have the following characteristics.
High Quality
CablesTEC has a rigorous product process plan that has been verified for more than ten years and advanced automation equipment at home and abroad to ensure the high quality of products.
Stable Performance
CablesTEC's automated production line reduces the chance of human error and ensures a highly consistent process and stable product performance.
Good Compatibility
CablesTEC can produce 2/4/8 pair cables and provide customized options such as different wire diameters, lengths and speeds.
Sustained High Productivity
CablesTEC's production line has a high utilization rate and good production continuity, with a total annual production capacity of more than 500K.
About CablesTEC
CablesTEC is an industrial interconnection high-tech company jointly founded by GIGALIGHT and Jiangsu Yancheng Guochuang. It mainly deals in direct-attached copper cables (DAC), consumer optoelectronic interconnection cables, special high-speed optical modules, and I/O test solutions, etc. product. The company is committed to the field of servers and supercomputing, as well as the field of industrial high-definition vision. With fully automated production equipment, it provides professional OEM/ODM manufacturing and services for industrial interconnection and consumer interconnection manufacturers.
About GIGALIGHT
As the open optical network device explorer, GIGALIGHT integrates the design, manufacture and sales of active & passive optical devices and subsystems. The main products are optical transceivers, silicon photonics transceivers, liquid cooling transceivers, optical passive components, AOC & DAC, coherent optical modules and open DCI BOX subsystems. GIGALIGHT is a hardware solution provider of innovatively designed high-speed optical interconnection that focuses on data center, 5G carrier network, metro WDM transmission, UHD broadcast video and other application fields.