17

Aug, 2023
Shenzhen, China, August 17, 2023 – Shenzhen Gigalight Technology Co., Ltd. has announced the successful development of an 800G QSFP-DD DR8 500m/DR8+ 2km/DR8++ 10km optical module based on silicon photonics technology. The company will showcase the product's performance through live demos at the CIOE event (Booth 11A71) from September 6th to 8th, 2023. Visitors are warmly invited to attend and provide their guidance.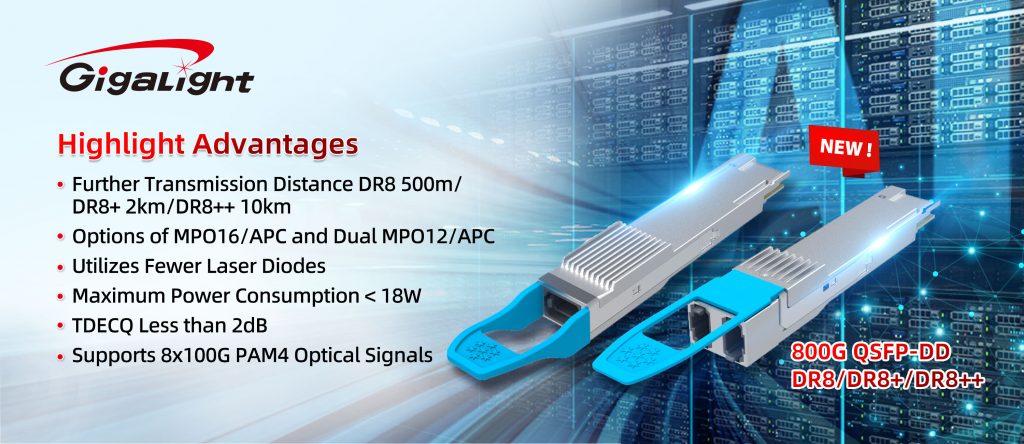 Gigalight's 800G QSFP-DD DR8++ 10km silicon photonics module employs four 1310nm CW lasers. It features a maximum power consumption of less than 18W, TDECQ below 2dB, and supports 8 lanes of 100G PAM4 optical signals. This module meets the 10km dual-fiber transmission requirement and achieves an OMA RXsen of -7.1dBm @ 2.4E-4 Pre-FEC 53.125GBd, exceeding the 500-meter link budget specified by IEEE 802.3. The module successfully completed a 10km optical fiber loopback test for 24 hours with no packet loss when operating at 800GE traffic rates with KP4 FEC enabled. The current released version supports both MPO16/APC and Dual MPO12/APC connector architectures. In comparison to conventional 800G optical modules using the 8-lane EML solution, the silicon photonics module employs fewer lasers, allowing, for instance, the 800G DR8 to achieve lower power consumption with improved performance.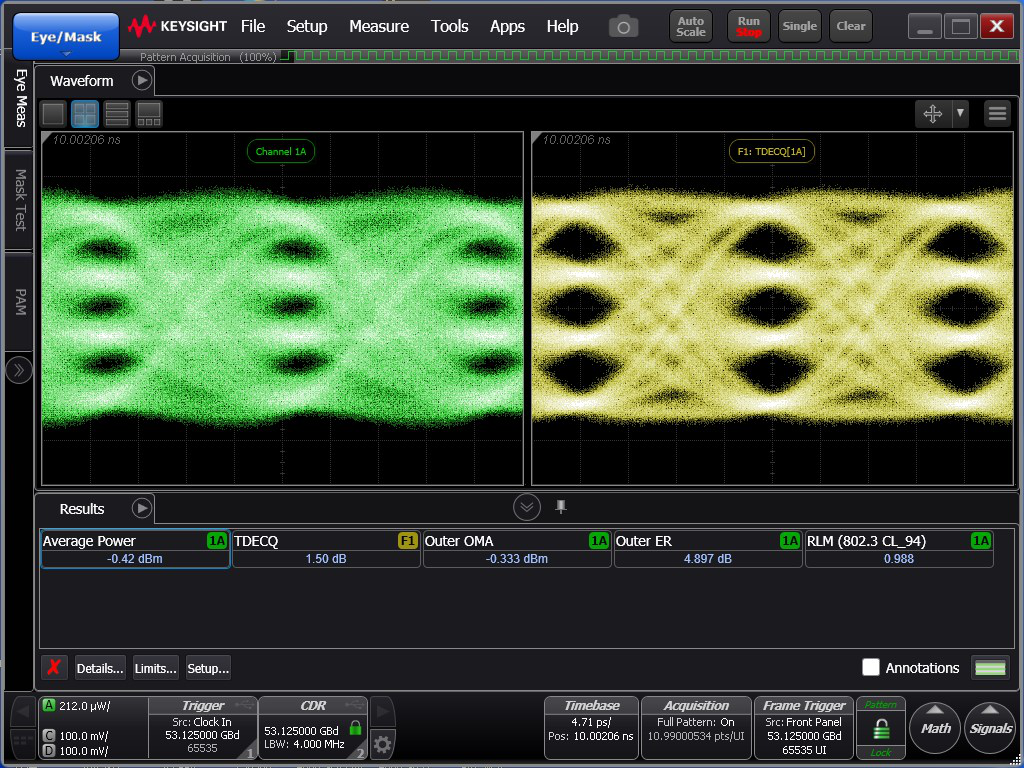 With the ongoing trend of AI high computing power, Gigalight, benefiting from its R&D strength, persistent efforts, and support from the silicon photonics industry chain, has overcome all key bottlenecks in silicon photonics technology. It is believed that more silicon photonics products will be released, fostering resonance among the industry chain and customers.
About Gigalight
As an open optical networking explorer, Gigalight integrates the design, manufacturing, and sales of both active and passive optical devices and subsystems. The company's product portfolio includes optical modules, silicon photonics modules, liquid-cooled modules, passive optical components, active optical cables, direct attach copper cables, coherent optical communication modules, and OPEN DCI BOX subsystems. Gigalight focuses on serving applications such as data centers, 5G transport networks, metropolitan WDM transmission, ultra-HD broadcast and video, and more. It stands as an innovative designer of high-speed optical interconnect hardware solutions.