2

Sep, 2022
Shenzhen, China, September 2, 2022 – GIGALIGHT is attending the ODCC 2022 Data Center Summit in Beijing on September 5-6 (Booth No. A19), with all immersion cooling interconnection optical modules/AOCs/DACs gathering on show, among which the immersion liquid-cooled DAC is a world premiere.
Other new products on show include:
400G QSFP-DD SR8/AOC – latest 7nm low power consumption version
400G QSFP-DD DR4/DR4+ Silicon Photonics – latest 7nm high sensitivity and low power consumption version
400G QSFP-DD xDR4/PLR4(EML) – latest 7nm high sensitivity long distance version
Regular 100G Data Center Product Line with New Cost – 25G SFP28 AOC/100G QSFP28 AOC and 100G QSFP28 CWDM4, etc.
ODCC is the biggest stage in the data center industry, where the innovation is quietly in progress, and same as GIGALIGHT.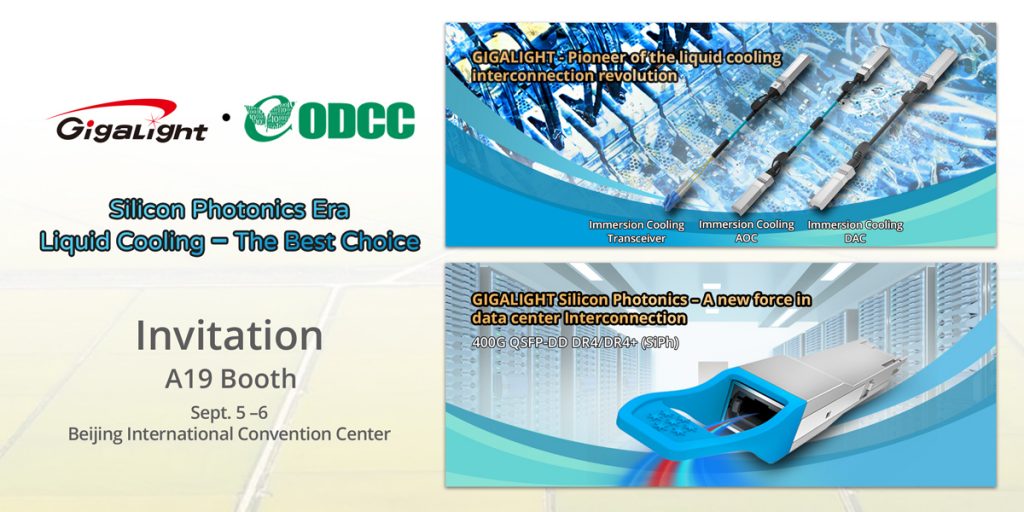 About GIGALIGHT
As the open optical network device explorer, GIGALIGHT integrates the design, manufacture and sales of active & passive optical devices and subsystems. The main products are optical transceivers, silicon photonics transceivers, liquid cooling transceivers, optical passive components, AOC & DAC, coherent optical modules and open DCI BOX subsystems. GIGALIGHT is a hardware solution provider of innovatively designed high-speed optical interconnection that focuses on data center, 5G carrier network, metro WDM transmission, UHD broadcast video and other application fields.