30

Jun, 2023
Shenzhen, China, June 30, 2023 – With the rapid development and widespread adoption of 5G networks worldwide, the demand for high-speed data transmission is constantly increasing, driving the need for continuous innovation in optical communication technology. As a dedicated follower of 5G OPEN RAN technology, GIGALIGHT is thrilled to announce the release of its cutting-edge 100G SFP56-DD LR1 and 100G SFP56-DD ER1 optical modules.These advanced modules not only cater to the growing needs of 5G networks but also contribute to the development of faster and more reliable communication networks.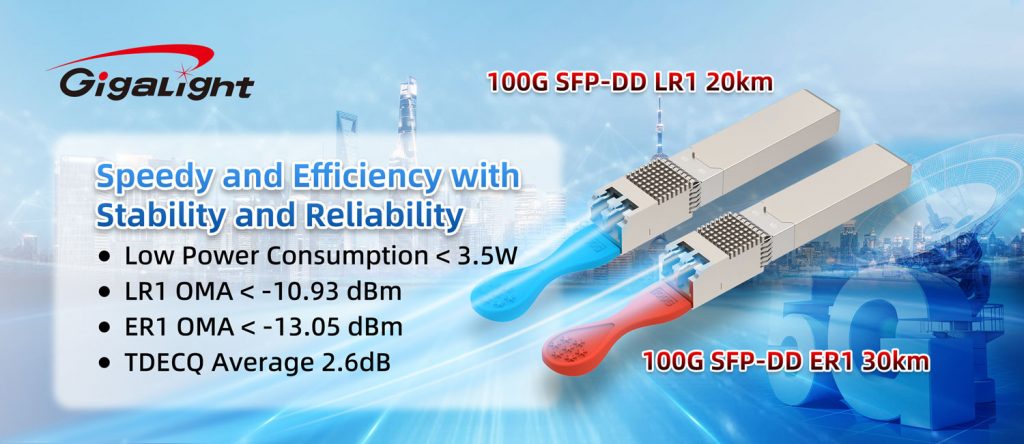 The 100G LR1 SFP56-DD optical module offers a maximum transmission distance of 20km, making it suitable for various applications such as data centers and communication networks. With an OMA sensitivity better than -10.93, it ensures stable transmission of high-quality signals even in complex and changing optical signal environments. This guarantees high-speed and reliable data transmission, providing users with an exceptional connectivity experience.
The 100G ER1 SFP56-DD optical module offers a maximum transmission distance of 30km, making it suitable for longer-distance data transmission requirements. With an OMA sensitivity better than -13.05, it has enhanced signal reception capabilities, ensuring stability and reliability in long-distance signal transmission. This enables more efficient and seamless data transmission, facilitating smooth and efficient communication.
The 100G SFP56-DDLR1/ER1 optical module series also boasts low power consumption, with power consumption kept below 3.5 watts, providing users with reliable energy cost savings. Additionally, with an average TDECQ value of only 2.6dB, it demonstrates outstanding stability and reliability in optical signal transmission.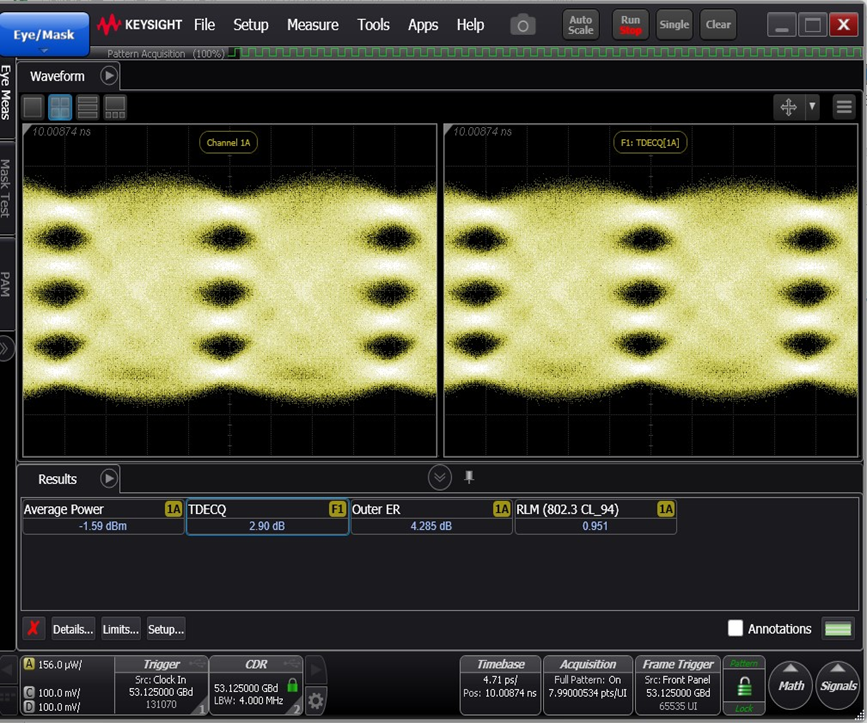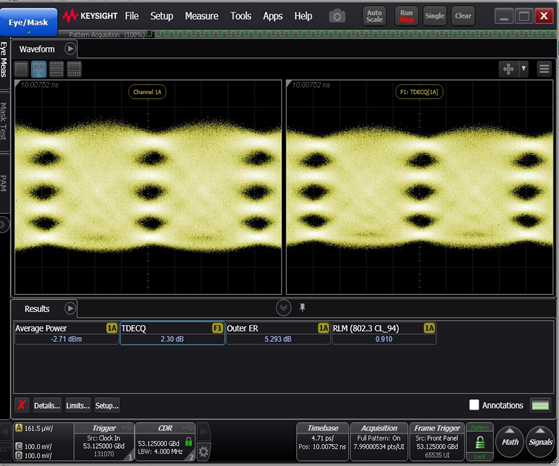 GIGALIGHT Communication Technology Co., Ltd. offers a comprehensive product line that caters to the next generation of 5G networks. Among the advanced and mass-produced products are the following 5G fronthaul optical modules:
| Product Name | Tx | Rx | Power Consumption | Distance |
| --- | --- | --- | --- | --- |
| 50G SFP56 LR1 | 1310nm EML | PIN | 3W | 10km |
| 50G SFP56 BIDI LR1 | 1270/1310nm EML | PIN | 3W | 10km |
| 50G SFP56 ER1 | 1310nm EML | APD | 3W | 40km |
| 50G SFP56 BIDI ER1 | 1270/1310nm EML | APD | 3W | 40km |
| 50G SFP56 DWDM1 | C-band EML | APD | 3W | 6km |
GIGALIGHT focuses on the development of compact packaging SFP56/SFP56-DD/SFP112 optical modules for 5G fronthaul. These optical modules not only increase port density but also deliver excellent performance to meet the requirements of various user scenarios.
About GIGALIGHT
As an open optical network device explorer, GIGALIGHT integrates the design, manufacturing, and sales of active and passive optical devices and subsystems. Its products mainly include optical modules, silicon photonics modules, liquid-cooled modules, passive optical components, active optical cables, direct attach copper cables, coherent optical communication modules, and OPEN DCI BOX subsystems. GIGALIGHT focuses on serving applications such as data centers, 5G transport networks, metropolitan wavelength division multiplexing (WDM) transmission, and ultra-high-definition broadcasting and video. It is an innovative high-speed optical interconnect hardware solutions provider.